RDA Certified as a Great Place to Work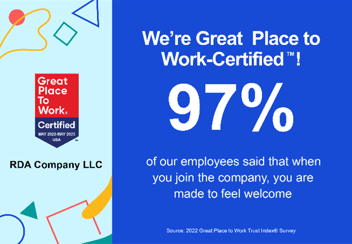 RDA is excited to earn its Certification as a Great Place to Work, a certification that encompasses outstanding employee experience and recognizes great company culture.
The analytically driven survey captures employee satisfaction in a number of areas, including company leadership, culture, benefits, and an overall satisfaction rating. In other words, the employees themselves get to share their experience working at RDA.
Our results revealed a 92% overall satisfaction rating, compared to 57% at a typical U.S.-based company.
"I could not be more proud," said CEO Tom Cole. "The employees and culture make every day an absolute pleasure to be part of RDA!"
Additionally, 98% of employees said our customers would rate the service we deliver as "excellent," and 98% of employees said management trusts people to do a good job without watching over their shoulders.
The Great Place to Work Certification is the most definitive "employer-of-choice" recognition companies aspire to achieve. As the only recognition based entirely on what employees report about their workplace experience, the achievement is unique in tracking how these employees experience a high-trust workplace. Every year, more than 10,000 companies across 60 countries apply to get Great Place to Work-Certified, as it is the global benchmark for identifying and recognizing outstanding employee experience.
More About RDA
Over the past year, we've introduced several new benefits and practices to enhance employee experience. Some of the most prominent benefits we've introduced have been upgraded health and wellness plans, a new maternity/paternity leave policy to support our team and their families, and financial wellness webinars hosted by a CFP.
Through the process of helping customers unlock new markets and global commerce channels, we ensure our value is always recognized. Trust is the key to this process, as it requires a better understanding of the customer so that RDA and our clients can consistently deliver better experiences.
Our experts are highly trained, accumulating 400+ certifications that allow them to tackle every complex scenario data software might present. With an eye to the future, these experts are especially keen on modernization, always looking to improve existing platforms to better suit the needs of your individual company. Learn more about our team and The RDA Way.
One of the biggest ways to celebrate RDA's advanced implementation and optimization of digital platforms is by recognizing our prominent partnerships. For decades, RDA has been assisting companies such as Alex Lee, Acuity Brands, Pandora, Total Wine, and so many more in the continued modernization of platforms.
With the right resources, you can track these customer experiences that will give you the edge you need to win and grow as a company. Visit www.rdacorp.com.
We're Hiring!
The Great Place to Work Certification not only recognizes exceptional employee experience, but also helps job seekers identify these companies. To learn more about joining a company on a mission to build powerful digital experiences and that puts its people first, visit our careers page.