Getting your Hands Dirty in the OrderCloud Sandbox: A Review of Sitecore's OrderCloud Learning Portal
Sitecore's technology offerings, much like our project management responsibilities, are ever evolving. And as a PM, it's essential to keep our skills and knowledge current to help best serve our clients.
Through the Learning Portal (Learning@Sitecore), Sitecore provides a wealth of pre-recorded video courses to help us learn and stay current. The course offerings range from the elementary "Introduction to Sitecore" to more technically advanced topics such as "Development with Sitecore Experience Commerce 10".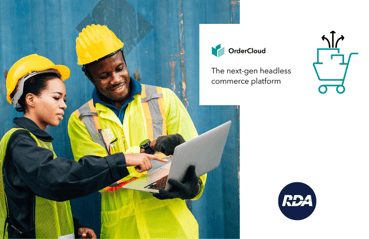 I decided to focus my learning on OrderCloud by starting with the OrderCloud Partner Collection course. The purpose of this post is not to review each individual learning module, but rather describe the process I used to learn about OrderCloud.
Before you dive in, here are some helpful notes on the course:
Set up a free account on https://ordercloud.io/ . This will provide you with a sandbox to play in while following the lessons.

This course does not have any tests

The lessons are video based.

You won't receive a certificate upon completion

I used this course was as a pre-requisite for the Sitecore OrderCloud Fundamentals course. I highly recommend this approach, but feel free to go straight to the Fundamentals course.
The course begins with solid introductory content about OrderCloud and the platform. In my opinion, your prime focus should be the OrderCloud for Business Analyst & Project Managers module. This module provides an overview of the technology including a succinct demo tying it all together. The module videos are short and easily digestible, so make sure you bookmark for future reference.
Although not necessary, but a good investment in time, review the OrderCloud for Developers module. It is not overly technical or difficult to follow, but I gained the deeper level of understanding I often crave as a technical PM.
After completing this course, I started the Sitecore OrderCloud Fundamentals course.
If you skipped the OrderCloud Partner Collection, please set up your free account on https://ordercloud.io/

Each topic has a short "Knowledge Check"

The lessons use mixed content, such as videos, text, and graphics to share the course material
The course is divided into three main topics: user management, product management, and order management. Each topic is further broken into smaller topics and culminate in a "Knowledge Check" quiz. I found I was able to retain more information by reading the through the modules, rather than watching the videos.
The true value of this course was the ability to following along with the modules and get your hands dirty in the OrderCloud sandbox. For PMs, we can go wild without fear of breaking anything!
Sitecore has made it easy to keep up to date with their latest offering as well as their current technologies. The Learning Portal will be my place to start when I need to get smart!