Welcome Home to SharePoint Online
Jeffrey Charikofsky, Principal Architect
As organizations transition - sometimes kicking and screaming - into the age of the modern intranet, we find that employees want more than a set of semi-dynamic pages that serve up content. Instead, they expect to be aided in their daily tasks through the appropriate application of intelligent, yet personalized, content and tools.
One of the more interesting announcements at this year's SharePoint Conference was the use of modern technologies such as Artificial Intelligence (AI), video streaming and social interaction, combined with SharePoint Online to provide rich, dynamic and perhaps most importantly - targeted content - through a new type of site template - SharePoint Home Sites.
Home Sites are a natural evolution of the Communication Site templates we have employed for some time. The communications site template is designed to effectively disseminate content such as corporate news, possibly news from other departments, announcements, events and quick links to important documents. Think about a benefit change announcement from Human Resources - how do we make sure our employees are informed about the neat features that are coming? Send out an email and hope users receive it? Post it to the HR site and hope the user happens to visit that site? Home Sites provide built in mechanisms for users to discover this type of important information.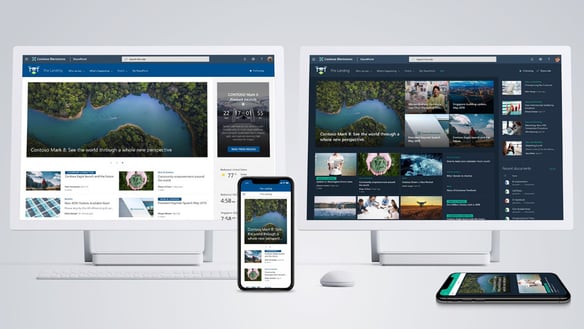 [Photo from Microsoft]
The organizational news source included will visually mark the news as official and will be syndicated to the Home site for all users to view. Don't have time to read the story now - mark it as saved for later so you can quickly pick up where you left off. Need to continue editing a document from this morning - just visit your recent documents list and start typing. All of this from your home page without the need to navigate.
So, when do we get to start using these new templates? Home Sites are due to be released during the third quarter of this year. As for our clients or perspective clients using the Wizdom or LiveTiles platforms, integration is already announced.