Two Innovative RDA Clients Recognized In 2021 Sitecore Experience Honorable Mentions
Covington & Burling for Most Intelligent Content Optimization and Merchant Distributors Inc, for Best Digital ExperienceTransformation
HUNT VALLEY, MD RDA, a proven leader in advising, implementing, and optimizing digital platforms, today announced it has received two Sitecore Experience Award (SEA) honorable mentions with two of their innovative clients. Covington & Burling (www.cov.com) was honored Most Intelligent Content Optimization for the redesign of their website. Merchants Distributors Inc, (www.merchantsdistributors.com) was honored Best Digital Experience Transformation for their Virtual Food Expo. These entries were selected from more than 140 submissions.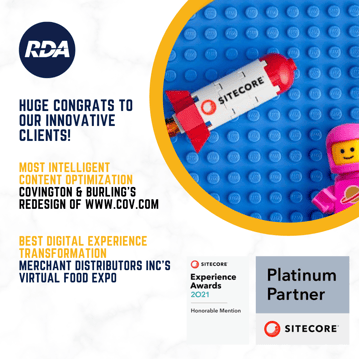 The Sitecore Experience Awards 2021 recognize brands that have built truly customer-centric digital experiences with Sitecore® technology. The SEAs are awarded to Sitecore customers and their partners whose entries clearly demonstrate their Sitecore solution is delivering ground-breaking customer experiences and great overall value to their business. The SEAs highlight best-in-class brands from four specialized categories.
"We are very excited to see that two of RDA's long-term clients are being recognized for their focus on delivering personalized and innovative digital experiences to their customers. We are proud and honored to be on this journey with them." said Jaina Baumgartner, RDA's Director of Digital Solutions. "Our collective teams have used the power of the Sitecore platform to unlock customer data to drive personalized and global engagement."
"We have some of the most innovative customers and partners in the world leveraging our platform to implement digital-first strategies that dramatically enhance the consumer experience," said Lee Miles, Chief Customer Success Officer, Sitecore. "They recognize that digital has become ingrained at every level of the customer experience. It is more than a key component for organizations that want to move beyond the status quo – it is absolutely essential to any brand that wants to make those experiences even more immersive and impactful."
Through the rigorous selection process, each entry was judged by a panel consisting of Sitecore leadership from that entry's region. There are three regions that evaluated and approved all regional selections based on specific selection and scoring criteria.
About RDA
RDA engineers digital experiences. As a leading provider of digital experience and intelligent automation platforms, RDA designs and builds powerful digital solutions that create stronger and faster engagements for our customer's customers. Leading brands – including Five Guys, Pandora, Kimberly-Clark, Tessco, Acuity Brands, and Georgia Pacific – have trusted RDA to drive new channels of revenue while becoming more agile. RDA is an award-winning Sitecore Platinum Partner, 4X Microsoft Gold Partner of the Year, Salesforce Consulting Partner, and UiPath Gold Partner.
Visit www.rdacorp.com