RDA's Summer Tasting Events: Headless Technology
Since the Covid shutdown, our team has become really good at virtual tasting events🍺 🍹…maybe a little too good. 😀 This summer we mixed it up a bit, we removed the sales pitches and got real with our marketing and technology executive guests. We focused our discussion around Headless Technology. Here is the recap: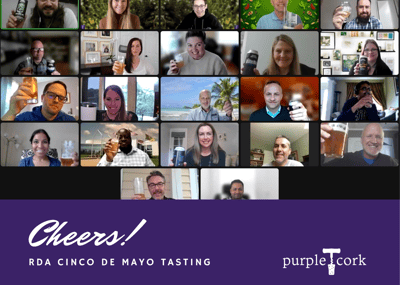 Before we get into it, a big thank you to our tasting experience partner, Purple Cork. 🍷 We started the summer tasting series with Barrel Brothers Brewing, with their solid mix of West Coast Beers, and ended the summer with expert Mixologist, Steven Maduro, who showed us how to mix up the perfect Margarita.
The Breakout Rooms
A majority of our event time was focused on enjoying a new experience. After a tasting, we took our drinks into breakout rooms and talked some shop. The two biggest topics/challenges that came up during both events were complexity and the churn.
Challenge #1: Complexity Kills Both Speed And Strategic Direction
The core theme across all of our breakout sessions was that there is still a lot of confusion around how best to bring together a strategy for a more agile and scalable Martech Stack. Many of our guests are very invested into large CMS/DXP platforms and struggle with the idea of breaking that apart into best of breed components that may add more contractual negotiations, pricing predictability, and brand consistency over time.
The big questions that consistently emerged:
"Is my CMS really Headless?"
"Is breaking apart my Martech Stack actually going to save us time and money?"
"How can we control how our brand is represented across all channels in a composable architecture?"
"What resources do we need to unlock new digital experiences faster while keeping brand control?"
Challenge #2: The Churn
Another big topic was resourcing. This is a huge concern for everyone. There is both front-end and back-end developer churn everywhere. This significantly impacts both Marketing and IT departments and their ability to make platform decisions. More importantly, it impacts how these departments serve their customers in the ways they want to be served…and when.
The digital reality check really starts to set in here. A great strategy and composable architecture plan may never get off the ground without the right experts and/or support teams to deliver and optimize it. This is very real for every company we talk with right now. Many CIOs and CMOs are rethinking their orgs to offer more flexible delivery structures based on current and future systems needs. Lack of resources and specific expertise is a growing trend. Aligning the right people will be a core element to the digital roadmap.
Cheers to Persistence!
We loved the conversations at our tastings and enjoyed meeting some great CXO leaders, who truly care about driving change at their companies. They are tired but still working hard to drive innovation, outthink their competition and manage all of the internal and external forces that exist in our markets.
Thank you for sharing your insights and spending time with us this summer.
Reach out if you have an idea for a discussion topic or a tasting – we have been thinking about a Bourbon event in December.
Keep Pushing forward! Cheers! 🍻