RDA Sponsors Vercel's Next.js Conference 2022
NEW PARTNER: VERCEL
Among the many things we have to be grateful for this year, RDA has a new partnership with Vercel and was recently an expert sponsor at Vercel's Next.js Conference 2022! The conference launch brought the latest innovations in cloud infrastructure and JavaScript tooling to the mainstream for developers to create and execute new ideas. Over 110,000 developers attended Vercel's Next.js Conference 2022, both in-person and virtually!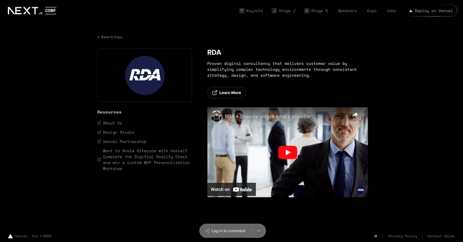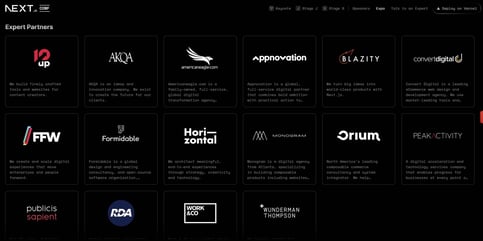 Vercel is a platform for frontend developers, providing the speed and reliability innovators need to create at the moment of inspiration. The company maintains the Next.js web development framework. No company in the world is more integrated with the creators of both Next.js and React than Vercel. Our teams are utilizing the power of Next JS and React to create high-speed, feature-rich, and fully functional custom applications that deliver customer experiences across many channels at scale. It's this kind of innovation that makes Vercel's Next.js Conference 2022 stand out above other industry conferences.
Our key partner, Sitecore, is also very aligned with Vercel. From selecting tools to building infrastructure, migrating to a composable stack is a daunting task. Vercel's integration with Sitecore's Experience Edge simplifies the migration and offers pre-built observability, database, CMS, and Commerce connections. Read more here https://vercel.com/partners/sitecore.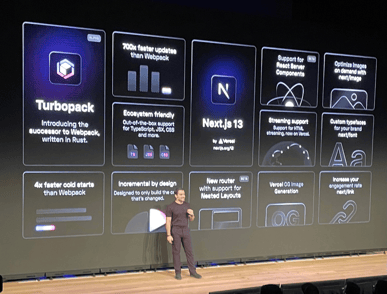 At Sitecore's Symposium, the RDA team was able to meet Vercel's CEO and founder Guillermo Rauch, creator of Next.js. RDA has been given access to an Enterprise sandbox of Vercel to support PoCs and demos. We are looking forward to a collaborative partnership with Vercel after Vercel's Next.js Conference 2022. Our partners are a major part of who we are here at RDA, and we are excited to see what future heights we will reach together!