Meeting Your Customers at Life's Financial Milestones
Customer engagement is driven by two primary components: a uniform, consistent and attractive brand identity, and the promise of a unique user experience that relates in a personal way to the customer. Of the two, the second is often the most powerful when it comes to attracting new customers.
According to Forbes, 80 percent of consumers say they're more likely to purchase from a brand that provides a personalized customer experience.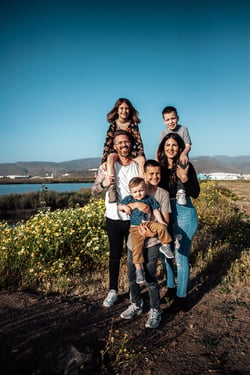 In another study, 91 percent of customers say that they're more likely to shop with a brand that provides personalized recommendations and offers that are relevant to their likes and needs.
By providing finance or insurance services, you inherently have a wealth of opportunities to customize your sales and marketing strategies in a unique way for each individual customer. For banking and insurance companies, the personal touch is not only recommended; it's a crucial element in each transaction, because you're already poised for involvement in some of your customers' most important and personal financial decisions.
The Value of Customer Personalization in Banking and Insurance
One of the most effective ways to strengthen customer engagement is to weave the thread of personalization through the fabric of your banking or insurance brand.
For financial services companies, customer personalization can:

Meet and exceed customer expectations in a memorable way

Increase engagement and conversion rates.

Promote customer loyalty and retention.

Generate stronger marketing ROI.

Personalization can be implemented through a variety of marketing strategies, which include language modification, presentation, and computer analytics. Here's a look at several key customer personalization strategies, with examples of ways you can utilize them.
Making Each Interaction and Transaction Personally Relevant
Successful banks and insurance companies know that humanizing each transaction makes the policy or financial service more relatable. Through thoughtful tactics, you can equate essential bank services, or policy protections, with successful or critical milestones in life.
In one example of this strategy, Bank of America recently released Life Plan®, a highly effective "stages of life" marketing campaign. In a widely circulated email advertisement, Bank of America used photos of different generations of family members to promote their "Family Life Banking Program," which showcases ways in which they provide financial help for people at any age. Throughout the ad, pictures were shown of people dealing with milestones like going to college, having children, and retiring. By clicking on these different photos, viewers were taken to departments offering financial planning help for these specific scenarios.
For both banking and insurance companies, this type of personalized marketing can be implemented with effective upselling and cross-selling strategies, with recommendations that can be personalized to complement or upgrade the customer's current account, loan, or insurance policy.
Language Modifications
Another effective method of personalization is to use language that puts the emphasis on customer experience. Recently, Canadian Western Bank revitalized its website to become more customer-centric. Toward the end, their homepage promoted messages like "Let's get to work/Partner with a bank that sees business the way you do," thus focusing the spotlight on the customer. Even the simple homepage phrase, "What would you like to do?" ensures that the customer's desires are the key focus in any transaction.
Likewise, CWB's new business statement, "Obsessed With Your Success," puts the focus on the customers by using "you" instead of "us" or "we." With a simple language modification, CWB projected an image of empathy — a trait that's essential to a customer-centric experience.
Implementing Valuable Customer Website Analytics
By utilizing digitally generated insights and data analytics, you can bolster your marketing with effective personalization strategies for your customers. One of these tools, artificial intelligence (AI), is especially valuable in generating a deeper knowledge of customer behaviors.
An example of this strategy would be for an insurance company to offer an attractive discount to customers who connect their car's smart devices to their insurance policy. By doing so, the insurance company can keep track of diagnostic issues with the car — for example, if a failed engine light activates and this could alert the insurance company that a new car might be needed soon.
How can I get started with personalization?
Whether your business is in banking, insurance or any other aspect of financial services, RDA is here to help. Our Art of the Possible workshop can accelerate your journey toward becoming a digital business, providing you with the tools and solutions you need to guide you through a successful digital transformation.
Digital transformation doesn't have to be an arduous process; and with our help, you'll be able to integrate valuable, up-to-date consumer website analytics into all your customer relationship management strategies. For more information about our Art of the Possible workshop and our comprehensive digital business solutions, be sure to contact us to find out how we can help you build the digital business of your dreams.