Five Trends in Roadmaps that are Reinventing Commerce
Walt Rolle, Director of Sales & Marketing Solutions, Sitecore MVP
Since the Internet was opened to the public in the early 1990s, technology has enabled online Commerce to expand at a rapid pace. As a consumer, you can reflect on how your own experience has evolved: access to new products and services, peace of mind in improved security protocols, flexible payment options, and mobile accessibility to name a few. The need to innovate and compete remains strong today, which is why Marketers are currently discussing Reinventing Commerce. This article will discuss five trends in Commerce roadmaps that I see across a variety of industries. How does your roadmap compare?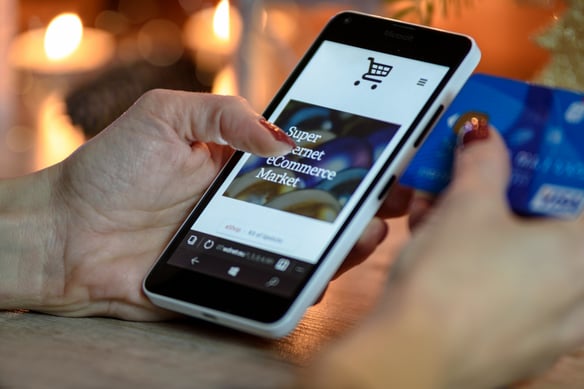 Photo by PhotoMIX Ltd. from Pexels
Owning the Customer Relationship
Marketers want to create a direct one-to-one relationship with customers. In order to do this the brand's web property needs to be a destination to self-identify. For example, CPG is offering an alternative to the distributor and QSR is looking to serve you without using a third party delivery service. In the marketers' roadmap, the plan is to attract customers by making products easily accessible and then cultivating that relationship by presenting personalized offers. The following features set the foundation for this objective:
Quick and easy self-service registration

Availability of a product or service that incents self-identification

Ability to capture profile information over time that can be used for segmenting

Social media integration

Tools to aggregate data from multiple systems to provide a 360-degree view

Privacy/preference settings to build trust and adhere to laws
Connected Commerce
Consolidation of web properties and platform tools is another key theme in the roadmap to improve customer experience and marketing operations. Marketers have better control of an outcome when an active session remains in the primary web property. All interactions are being captured during the visiting session which can then be used to present compelling real-time offers. Without consolidation the challenge is two-fold: Marketers having to orchestrate tools across multiple platforms and customers having to navigate multiple websites. Imagine going to a retailer and having to conduct research on one system and then purchasing on a separate system. Now compare this to a consolidated customer experience that tells a story with each click and at the end of the journey presents a personalized product or service. Market research shows that your customer will be more likely to buy.
Accelerators
Building this kind of journey requires a series of short impactful projects, but the integrations can be complex, and Marketers are facing deadlines. Therefore, Marketing's roadmaps favor the use of accelerators:
Front-end design templates

Standardized data models for product catalogs

Pre-built integrations for ERP, CRM, payment, and tax

Out-of-the-box search algorithms

Compliance playbooks
Integration Flexibility
Even if you have gained clarity on the functional output and secured the use of accelerators, there is still an ecosystem to be harmonized. A typical list of systems integrations includes: ERP, CRM, PIM, DAM, data warehouses, marketing lists, Excel sheets, and other legacy data stores. For this reason, the marketers' roadmap calls for flexibility of integration options. The commerce platform needs to easily ingest and share data with the supporting systems through modern technology standards that are easily understood by implementors.
KPIs and Attribution
The final trend is measurement, and it provides the reasoning for continuing to invest in the platform. Common metrics such as visits, average page time, abandoned cart percentage, and total sales are not enough to tell a story that supports marketing spend. Marketers need to know if the hypothesis behind a particular campaign has paid dividends. Examples of measurement are:
Scoring engagement to separate raw visit metrics from value

Comparing conversion of a targeted journey for a persona vs. one-size-fits-all messaging

Attributing sales to recent campaign activity such as a product rollout

A/B testing of various messaging techniques

Promotion effectiveness

Sales funnel reports using website activity

Referral activity from influencers
As 2020 quickly approaches, this article provides some ideas that should be top of mind on when building a roadmap for Reinventing Commerce. Use these examples as target objectives and then let your project team evaluate the best platform to solve for these goals. With this information in hand you can plot out a roadmap that incrementally delivers these features to market over time to establish direct relationships with your customers, a relationship that will last for life.
Walt Rolle leads the Digital Sales & Marketing practice for RDA, a Sitecore platinum partner, helping his clients launch digital transformation that works through accurate technical guidance and a rock-solid management strategy. Find Walt on LinkedIn.