Back and Better than Ever! Wrapping Up Sitecore Symposium 2022
After 2 years of virtual events – the wait was finally over. Sitecore Symposium 2022 went live in the windy city of Chicago, IL! What a week!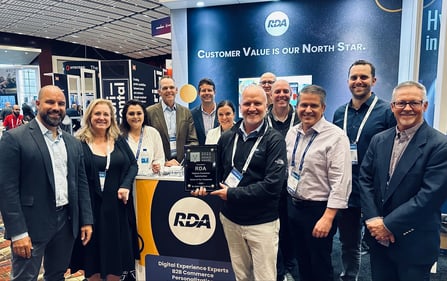 After so many cancellations and virtual events during and in the immediate post-COVID world, we were so thankful to get together with the team and network with like-minded professionals in person! Not only did the RDA family reunite to gain more Sitecore knowledge, but we got to meet some great people who are doing amazing things in business.
One of the biggest announcements at Sitecore Symposium 2022 was XM Cloud. This move to SaaS means our customers no longer have to concern themselves with the complexities that can come with a Sitecore upgrade. When XM cloud is combined with Sitecore Experience Edge and Vercel (also an RDA Partner) the SaaS infrastructure becomes a real competitive advantage with both faster experiences and cloud scaling. Now that's something to be grateful for!
"Impressive reveal by Sitecore's Chief Product Officer, Dave O'Flanagan, of all the hard work his product team has invested over the past year to elevate Sitecore's composable DXP offering to be best-of-class. The pursuit of simplicity and elegance across the portfolio is admirable and will be appreciated by developers and users alike. RDA is excited to help our customers navigate their own unique digital transformations and to explore what composable means to their strategy in their pursuit of customer value, impact, and differentiation." - Matt Forsyth, Chief Revenue Officer at RDA
Content Hub One was another SaaS offering launched from Sitecore that week. This is a great fit for our clients that need basic content editing, content modeling, and the ability to deliver content across multiple channels.
Sitecore's new integration platform, Connect, enables a low code / no code interface allowing our clients to connect Sitecore to all the different pieces of their existing technology stack. The 1,000+ connectors bring home the fact that Sitecore is not just going all in on composable but doing it with a focus on playing well with other technologies.
Hear what RDAers said about their Sitecore Symposium experience:
Check out these MVP Summit Series clips where Chad Solomonson and Jaina Baumgartner discuss the future of Sitecore products and share their favorite Symposium moments:
While our year is wrapping up, we'd like to take a moment to be grateful for all of the wonderful events we attended, including Sitecore Symposium 2022, and the amazing people we met. Here at RDA, people are at the heart of everything we do so we are thankful for each and every person on our team. That's it for now, Chicago!